Why Galastellar is the best place to buy designer light-related products in 2023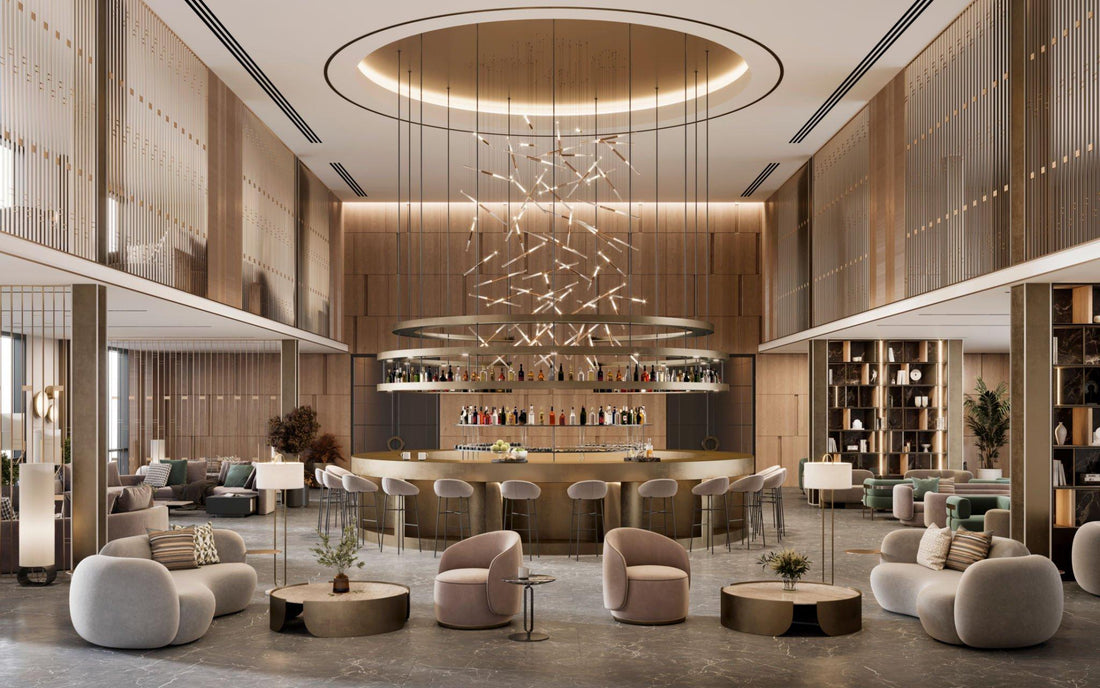 As we step into a new year, it's a great time to spruce up our homes with some beautiful home decoration pieces. And when it comes to adding the perfect ambiance and mood to a room, nothing quite does it like designer light-related products for a cozy, comfortable household. That is where Galastellar shines bright and radiant in 2023, quite literally. If you haven't heard already, Galastellar is a unique and exciting brand that focuses on the designer lights and home decoration industry on a global scale, with a specific focus on designer light-related products and modern innovative design ideas, bringing the best in the industry for you. These products are of utmost importance when it comes to setting the tone and atmosphere of any living space. With Galastellar, you can rest assured that you'll be getting high-quality products that will transform your home into a space of comfort, style, and elegance.
The Galastellar Difference
What sets Galastellar apart from other brands in the home decoration industry is its unwavering commitment to customer satisfaction. From their generous refund policy to their high-quality products and affordable pricing, Galastellar goes above and beyond to ensure that their customers are happy with their purchases. With a refund policy that extends up to a year, you can rest easy knowing that you're getting a product that's built to last. They trust the quality of their products, and by extending that trust to you, they are capable of making a bond with you, the customer in the long run. The products themselves are made with only the highest quality materials and are designed to add a touch of luxury to any space. And if you ever need assistance, their customer service team is always ready to help you out. All in all, Galastellar truly stands out for its focus on delivering an exceptional experience to its customers.
The story of The Galastellar
Galastellar is not your typical home decoration brand by any means. They are not just another brand that wants to sell you decorative objects and lights. Their company is made up of a team of experienced individuals who have been working in the industry for nearly 10 years. They are very passionate about providing their customers with the best designer light-related products on the market in 2023, and they take pride in their work their success rate in providing the best products for their clients speaks volumes to this matter.
Their team comprises a group of young and energetic individuals who share the same passion for home decor. They work together to make something happen and create an experience that is truly unique for their customers. Their goal is to achieve 100% customer satisfaction and to do that, they take the time to learn from their customers. They believe that their feedback is essential in helping us to continuously improve their services and product offerings.
At Galastellar, they have a professional production process that ensures the quality of their products. Their disciplined management and highly qualified workers are the keys to creating high-quality designer light fixtures that are both beautiful and functional. Every day, thousands of their products are shipped all over the world, bringing joy and elegance to homes everywhere.
Their founders started Galastellar because they saw an opportunity to make a difference in the home decoration industry. They recognized the importance of lighting in creating the perfect ambiance in any living space. Their passion for designer light-related products and their trust in their own process is what sets Galastellar apart from their competitors in 2023.
They differentiate itself from the competition by offering unique, branded products that are not available elsewhere of the same quality. They take great care in steering materials from the best suppliers, and all of their products are handcrafted to perfection. They believe that everyone deserves to have a beautiful home, and that's why they've made it their goal to provide customers with products that are not only stunning but also practical and long-lasting. Galastellar's commitment to quality and affordability is evident in everything they do; from the materials they use to the designs they create.
In all fairness, it's safe to say that Galastellar is a brand that truly understands the importance of home decor, and they've made it their mission to provide customers with products that are both beautiful and functional. Their passion for designer light-related products is evident in the high-quality products they offer, and their dedication to customer satisfaction sets them apart from the competition. If you're looking to add a touch of elegance and style to your home, look no further than Galastellar in the new year of 2023.
Product Range
Galastellar's product range is truly remarkable. They have an extensive collection of designer lighting fixtures that can add a touch of elegance and sophistication to any space. Whether you are looking for a chandelier to dazzle your living room or a pendant lamp to illuminate your dining area, Galastellar has got you covered.
Their high-quality light bulbs and accessories are another key selling point. You can trust that their bulbs will not only last longer, but they will also provide a better quality of light. The accessories they offer are also essential to completing the look of your lighting fixture.
Galastellar offers a variety of styles and designs to cater to every taste. They have modern, contemporary, and traditional options available, so you can find something that suits your unique style. Their collection of chandeliers, pendant lamps, table and floor lamps, and wall lamps will leave you spoilt for choice.
What's even better is that all their products are affordably priced without compromising on quality. This means you can have the designer lighting fixtures you've always dreamed of, without breaking the bank in the inflation-heavy modern world.
That is how in a market saturated with generic lighting options, Galastellar stands out for its product range. They understand that lighting fixtures are an essential element of home decor, and they provide an extensive selection to cater to all preferences.
Customer Testimonials
They know that actions speak louder than words, and this is why they are proud to share some of the amazing testimonials they have received from our satisfied customers. At Galastellar, they strive to offer the best customer service, the highest quality products, and the most affordable prices. Here are some reviews from their happy customers:
"I recently purchased a chandelier from Galastellar for my living room, and I couldn't be happier with my purchase. The customer service was excellent, and the product itself is stunning. The installation process was straightforward, and the chandelier added so much elegance to my home. I highly recommend Galastellar for anyone looking for designer lighting fixtures." - Samantha M.
"I was looking for high-quality light bulbs for my home, and I came across Galastellar. Their selection was impressive, and their prices were unbeatable. I decided to place an order, and I was pleasantly surprised by how quickly it arrived. The bulbs were exactly what I was looking for, and they have lasted much longer than any other bulbs I have purchased in the past. I will be a returning customer!" - John S.
"I had been searching for the perfect pendant lamps for my kitchen for months when I stumbled upon Galastellar. They had the exact style I was looking for, and their prices were reasonable. I was a bit hesitant to order online, but the customer service team at Galastellar was extremely helpful in answering all of my questions. When my lamps arrived, I was blown away by the quality and attention to detail. They look amazing in my kitchen, and I have received so many compliments on them. Thank you, Galastellar, for making my home feel even more beautiful!" - Emily T.
As you can see, their customers are happy with their purchases and impressed with their customer service. They take pride in their high-range quality light products and strive to ensure that every customer is completely satisfied with their purchase. 
Environmental Sustainability
At Galastellar, they believe in protecting the environment and doing their part to promote sustainability. That's why we are committed to offering eco-friendly and sustainable lighting options to our customers.
One way they promote sustainability is by offering LED lighting solutions. LED bulbs are more energy-efficient than traditional incandescent bulbs, which means they use less energy and last longer. This reduces the amount of waste produced and lowers the overall carbon footprint of the products.
They also use sustainable materials in their products, such as bamboo and recycled glass. These materials are renewable and reduce the amount of waste produced by the manufacturing process. Additionally, they strive to minimize our environmental impact as a business. They use energy-efficient lighting and equipment in their offices and warehouses too, and they recycle materials whenever possible.
Their commitment to sustainability doesn't stop with their products and practices either. They also partner with organizations that share their values and support environmental causes. They believe that by working together, they can make a positive impact on the planet.
Design Inspiration
At Galastellar, it is believed that good lighting is more than just a way to illuminate a room. It can be a work of art, a statement piece that adds to the overall aesthetic of a space. That's why they stay on top of the latest trends in lighting design and share our knowledge and inspiration with their trusted customers.
Their team of designers and product experts keep a close eye on emerging trends in the world of lighting design, attending trade shows and exhibitions to stay up-to-date with the latest styles and technologies. They then curate a collection of designer lighting fixtures that are not only beautiful but also functional and affordable.
They understand that every home is unique, and so are the tastes of their customers. That's why they offer a wide range of lighting styles and designs to suit every taste and budget. Whether you're looking for a vintage-inspired chandelier or a sleek modern pendant lamp, they have something for everyone.
Their website features a variety of resources to help inspire your own lighting design projects. From their blog, where we share lighting tips and trends, to their social media accounts, where they showcase beautiful interiors and customer photos, they aim to provide their customers with the tools they need to create a space that is truly their own.
At Galastellar, they believe that good lighting is not just a luxury, it's a necessity. It can transform a space from drab to dynamic, from ordinary to extraordinary. They are passionate about bringing the latest lighting design trends to their clients, and they strive to provide the best customer service and high-quality products to make every design dream a reality.
Final Words
As you can see, Galastellar is more than just a place to buy designer light-related products. It is a brand with a mission to provide high-quality, affordable products while also prioritizing customer satisfaction and environmental sustainability. Their generous refund policy, dedication to high-quality production processes, and focus on customer feedback and improvement set us apart from the competition.
Whether you are looking for a chandelier to add elegance to your dining room, a table lamp to create a cozy reading nook, or a wall sconce to illuminate a hallway, Galastellar has the perfect product to suit your needs. Their extensive product range, including designer lighting fixtures for different rooms and spaces, high-quality light bulbs, and accessories, and a variety of styles and designs, ensures that there is something for every taste.
But as you already know, Galastellar is more than just a purveyor of designer lighting products. They strive to be a source of design inspiration, offering tips and ideas for how to incorporate lighting into your home decor in creative and stylish ways. And, of course, they always prioritize environmental sustainability in their production processes and materials.
At Galastellar, they truly believe that everyone deserves to live in a beautifully lit space, and they are committed to making that a reality for their trusted clients. We thank you for choosing Galastellar as your go-to destination for designer light-related products, and they definitely look forward to serving you in the near future.